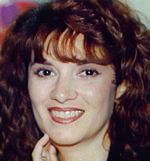 Jeanette Joyce,
I-Act Certified Colon Hydrotherapist

(505) 228-6625
Integrative & Restorative Therapies
90% of all illness and disease originates in the colon.
Cleansing and Rebuilding a poorly functioning colon is one of the most important steps you can take to greatly reduce the risk of disease and achieve an improved state of health.
4944 Night Hawk Court, Rio Rancho
Dessert Rose Blvd & Night Hawk Ct. near Enchanted Hills Blvd in Rio Rancho
Mon-Sat: 11am-5:30pm by appt.
Jeannette Joyce owns Rio Cleansing Therapies where colon hydrotherapy and ionic footbaths are our specialties.
In today's world we are exposed to more and more toxic chemicals and additives in our food supply, the air we breathe and the water we drink. Over time, thse chemicals and toxins accumulate in our body tissues and, if not removed, can lead to more serious health problems.
Through colonics you can assist your body in removing toxic waste out of the colon. This also reduces the toxic burden on our liver, kidney, blood stream and lymphatic systems.
Colonics are not just for those with serious health concerns; they are an amazing tool for the prevention of
colds,
flu,
allergies,
fever,
and PMS.
Oftentimes when issues like these are caught in time, they can be averted altogether!
Jeanette Joyce is an I-ACT certified colon hydrotherapist who has been active in the field of colonics for sixteen years. She practiced in Long Island, New York for six years before moving to New Mexico where she is the owner of Rio Cleansing Therapy in Rio Rancho.
She became convinced of the value of colon hydrotherapy after her own experiences with parasites and Candida albicans (systemic yeast overgrowth) lead her to seek out colonic therapy which greatly accelerated her own healing.
Jeanette emphatically believes in the practice of colon hydrotherapy and feels that because a majority of illnesses originate in a toxic colon, healing can take place only when the colon is kept clean and free of toxins. She has a passionate interest in others and a desire to help her clients in their healing journey. Her goal is to provide a clean and safe environment for the comfort and well being of her clients.
Jeanette is really good at what she does. She is not only highly qualified, she really cares and you can feel it. The environment is professional, clean/sanitary, and smells good, but doesn't have the coldness of a medical office. She makes you feel so comfortable and at ease. I cannot recommend her services highly enough and have already given her a couple of referrals. — Carmen S.
Although I was still pretty young, I found myself with a lazy colon. It was hard to deal with – I was not regular at all. For ten years I had to take something every night in order to move my bowels. When I had colonics in California, I could go through the whole treatment without anything moving…nothing at all. Maybe a small movement afterward which provided minimal relief.
When I moved to NM and found Jeanette, I was astounded at the amount of release I experienced from the very first treatment! It felt so good! And my first time results have continued. Never have I had anyone provide colon therapy that offers the relief and sense of well being that Jeanette provides. I highly recommend her to anyone! — C. S., ABQ
As compared to treatments with other colonic therapists, Jeanette put me at ease right away. This process can be awkward in some cases, but Jeanette has wonderful confidence and amazing skill. The experience with her is one of relaxation, total ease and comfort. And the results I've had have truly been fantastic! I highly recommend her to anyone. — Amy M.
I had done colonics before, when I lived in Las Vegas. When I moved to Rio Rancho, I found Jeanette Joyce at Rio Cleansing Therapies to be located very close to me, so I tried her. Jeanette's home-based clinic, while smaller than what I was used to, was familiar in its setup. I found Jeanette to be very professional and the treatments quick and easy. I have had a few treatments now and have been very pleased. — Willa S
Colonic Therapy
1 hr Session: $75
Ionic Foot Bath
.5 hr Session: $25
5 Colonic Package: $347.75 tax inc. (reg. $402.90 – Save $55)
3 Ionic Foot Bath Package: $70 tax inc. (reg. $80.58 – Save $10)
5 Ionic Foot Bath Package: $100 tax inc. (reg. $134.30 – Save $34)
Cash • Check • Traveler's Check